Gulliver just acquired a Connex 3 Objet260 from Stratasys.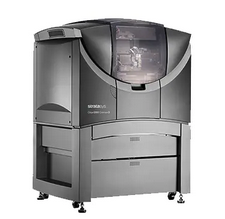 The Objet260 Connex3 boasts the widest range of material properties for its class, from rigid to flexible, transparent to opaque, neutral to vibrant, standard
to bio-compatible and durable to high temperature.
It has a horizontal build layers as fine as 16 microns, while alllowing printing objects of size 200x200x200 mm3
Looking forward to assemble new experiments!