Contact
Gulliver is a mixed research unit UMR 7083, created in January 2001, and managed by both the Centre National de la Recherche Scientifique (CNRS) and ESPCI-Paris PSL.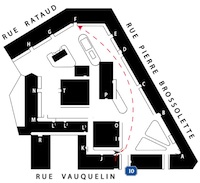 Gulliver laboratory is located in ESPCI Paris, 10 rue Vauquelin, in the 5th arrondissement of Paris. On the campus the lab is located on the 3rd floor, staircase F.
Some of the offices are located on the 6th floor of the Institute Pierre Gilles de Gennes (IPGG), 8 rue Jean Calvin in the 5th arrondissement (1 min from the ESPCI campus).
To contact us
Director of the laboratory
M. Olivier DAUCHOT
Tel. : +33 (0)1 40 79 58 42
Fax : +33 (0)1 40 79 47 31

Lab adress
Gulliver UMR CNRS 7083
ESPCI Paris
PSL University
10, rue Vauquelin
75231 Paris cedex 05
CNRS administration
Ms. Fée SORRENTINO
Tél. : +33 (0)1 40 79 47 27
Fax : +33 (0)1 40 79 47 31

ESPCI administration
Ms. Elisa SILVEIRA
Tél. : +33 (0)1 40 79 47 39
Fax : +33 (0)1 40 79 47 31

To visit us
Public transport
– Subway : Line 7, stop at Censier Daubenton or Place Monge
(then 5 minutes by foot)
– RER B: Stop at Luxembourg or Port-Royal
(then 10 minutes by foot)
– Bus :
* 21 and 27 : Stop at Berthollet-Vauquelin
* 47 : Stop at Censier Daubenton (then 5 minutes by foot)
* 83 and 91: Stop at Port Royal - Berthollet (then 5 minutes by foot)

Vélib' stations (public bicycles)
– 13 rue Erasme, 75005 Paris
– 8 rue Jean Calvin, 75005 Paris
– 12 rue de l'épée de bois, 75005 Paris